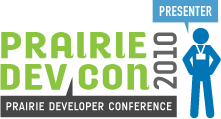 Prairie Dev Con was a blast. Great job by D'Arcy on organizing the conference. Thank you to everyone who attended my sessions and especially those who asked questions. I also enjoyed catching up with many of my friends who showed up, even if I was only able to speak to some of the briefly. (It was a busy two days.)
For those of you looking for session slides and code, you can find it here:
BTW – I applaud D'Arcy's bravery in going to a Saskatchewan Roughriders autograph signing in an Alouette jersey and asking them to sign his calculator. Classic! For those of you unfamiliar with the story, the Alouettes beat the Roughriders in the Grey Cup (Canadian football equivalent of the SuperBowl) this year due to a "too many men on the field" penalty in the closing seconds of the game. Fortunately the Roughriders were good sports about the prank. Check out D'Arcy's blog post for full details and video footage of the stunt.